Monday, January 29, 2007
Lately, ada beberapa akhbar utama memaparkan liputan mengenai AFP06... dan my picture pun termasuklah dalam suratkhabar tersebut... glamor sekejap.. hehe...
Wehuu.. last weekend GILA-GILA KERBAU menang sebagai the best script dalam kategori Animasi di Anugerah Filem Pendek 06 (AFP06)... Memang tak sangka langsung, sebab animasi ni mana ada skrip... nak buat treatmeant dulu pun susah gila.. tapi, apa2 pun dah menang dan bersyukur.... Hadiahnya berupa sebuah tropi, sijil dan wang tunai RM5000...
Selain itu, kemenangan besar sudah tentu untuk GENG. GENG menang Anugerah Filem Pendek utk keseluruhan dan dlm kategori Animasi... tahniah Les' Copaque...
Lastly, I would like to say thank you to my parents, to Les' Copaque... especially to En Burhan, Pn Ainon, Kak Mun sebab tolong diuruskan byk benda... to Anas dan Eejean, sebab hantar borang penyertaan AFP... to Nizam, sebab support me... kepada kawan di MMU, Shaz dan Sara, sebab tolong kasik idea utk cerita ni... dan kepada semua sebab mengundi... tq
Terkejut menang
p/s : Yuki mata duitan~
Ditulis oleh Mohd Zarin
3 Komen

Tuesday, January 23, 2007
Hari ni saudara Ito dari kumpulan Blues Gang datang office... Ala, yang femes dengan lagu "Apo Nak Di Kato" tu. Buek apo di datang sini?... ha, ada la sikit perbincangan dengan En Burhan (bos besar les' copaque)... mebi dia akan sumbangkan lagu dalam filem Geng ni... so far tak sure lagi... baru aje bincang.. tapi kalau jadi, mungkin kita akan buat Ito versi 3D sebagai watak sampingan... macam mana nak combine tu?.. ha tu kena tunggu...
Gambar Ito ni saya yg lukis... So, masa jumpa dia tu... macam konon2 bergambar kasik kat dia la...
//Selain tu hari ni ada 1 peristiwa kelakar berkaitan Ito... dialog nye cam ni
Eejean : Ito tu siapa? penyanyi ke?
Zarin : Yela.. you tak kenal ke? Dulu dia dari Blues Gang... lagu famous "Apo Nak di Kato "
Eejean : Ha? dia nyanyi lagu jepun ar?
Zarin : Kenapa pulak lagu jepun?
Eejean : Tu... you cakap nama lagu dia "Arigato"
Sunday, January 21, 2007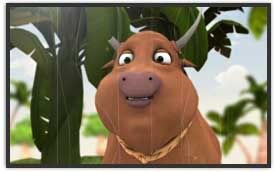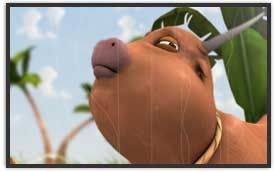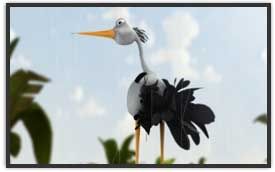 "Gila- gila kerbau" is actually my FYP in MMU and its been nominated in the TOP TEN in Anugerah Filem Pendek 2006... Is a short animation about Mumu (the kerbau) and Bubu (the bangau).... the story is err.. really simple... To find more info about AFP, go here -> http://www.afp06.com/sub_ANIMASI.htm
The event is on 27th at Angkasapuri....
Ohya... 2 animation from Les Copaque also in the Top Ten... Im very happy to see either one of this animation win...
Currently, I work at Les Copaque Production Sdn Bhd as 3D Artist. Right now our biggest project is Geng - The Movie... is the 1st 3d animation movie in Malaysia... and yes, it will happen
My task here basically is to prepare all 3d elements for animators, do some texturing for all props and backgrounds... draw a storyboard... join in compositing process... experiment matte painting(sort of).... and my main task is actually is to RENDER...
Render is where I must set the lights for all scenes... arrange all the background and props according to each shots nicely.. make sure all texture loaded... and hits the render button... and only after i satisfied with the render quality.. i will do a batch render... this is where i separate the shot into a few layer... and later on combine it in After Effect ...
See, sounds easy!
Left to right : Standing : Zarin, Jeff, Nizam, Yong Pin, Anas, Safwan, Zaid, Adi Sitting : Ee Jean, Yuki, Ah Wei
Hi all...
Starting from today.... i will post anything happen or will happen in my life at this blog... Im not a blog person, I hate writing and thats why i will make it simple...
Lets start... gogogogo